[et_pb_section admin_label="Section" fullwidth="off" specialty="off"][et_pb_row admin_label="Row"][et_pb_column type="4_4″][et_pb_text admin_label="Text" background_layout="light" text_orientation="left" use_border_color="off" border_color="#ffffff" border_style="solid"]
Give This Guy A Hand Because He Just Broke The Craziest Golfing World Record There Is
For average golfers like myself, we try to find time to get out and get a "quick" round in. For most, this feat is easier said than done. But when you find out what Brad Luiten, a man from New Zealand, did on a golf course in just 12 hours will leave you unbelievably jealous and it will warm your heart!
According to STUFF in New Zealand, Brad Luiten broke a Guinness World Record for the most holes played in a 12-hour window. Before we move on to "HOW MANY HE PLAYED," I want all of you to take a minute and reflect on what it would take to play 12-hours of non-stop golf. Most of you struggle to get a 4-hour 18-hole round in. We can all agree, while it would be extremely fun and "bucket list-ish" to play 12-hours of straight golf, most of us probably couldn't do it. Why? Because of several things. Many of you break down after the first bogey on #1 and ruin the whole round for the rest of the group. If you can't handle one hole, how are you going to handle 12-hours of frustration and putter-throwing? Some of us also, like to drink grampa's old cough medicine a little too consistently on the course. 12-hours of drinking is do-able but would be extremely difficult. And the last is the most obvious; we don't have the time or the energy to play that much golf in that short amount of time.
237! 237 holes of golf in a 12-hour window is the new golfing world record. The previous golfing world record? 221 holes by a guy from Canada.  Luiten played Helensville Golf Club (If I am doing my math right) an astonishing 13 times to get to 237 holes. What is also amazing is he covered 62 miles of grass during his journey.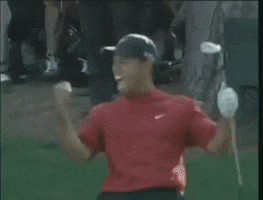 Now, there is a lot of math to this feat. In order for Luiten to play 237 holes in a 12-hour window, he would have had to play each hole within 3 minutes. The Golf Club he was playing isn't an easy Par-3 course either. Helensville, from tips to green, is 6,400 yards. OH, and he did with just a 6-iron. No drivers for Par-5's, no short irons for Par-3's, and certainly no hybrids for those tricky in-between fairway shots. He only used a 6-iron.
Luiten is no stranger to the world record breaking business. He is a trained marathon runner who has the record for the fastest timed 10K on crutches. There was a purpose to this golfing world record for Luiten, though. Bringing awareness to bowel cancer is something he truly cares about. New Zealand has a bowel cancer foundation called the Bowel Cancer NZ Foundation and they only have two part-time staff members. His mission was to raise funding for this program and raise awareness for bowel cancer, a cancer that took his friend's life last year.
The guy is a man among boys here. Like I said, this would be extremely fun but at the end of the day, there is just way too many obstacles holding me back. The main one:  it takes me at least 5 minutes to find my ball off the tee, so 3 minutes a hole would not be in the cards! Colton Little
@ColtLit
[/et_pb_text][/et_pb_column][/et_pb_row][/et_pb_section]